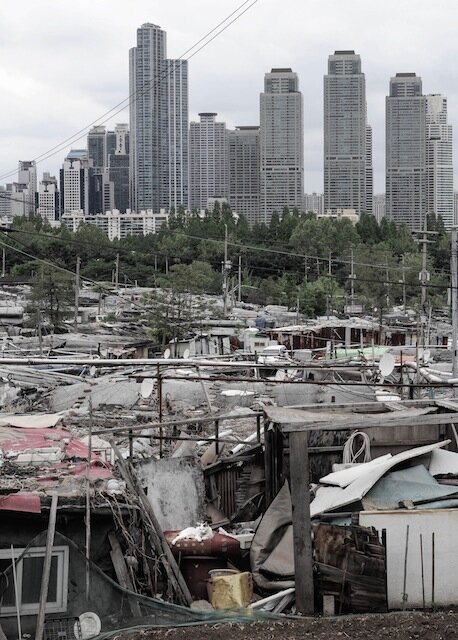 After the 1960s, a rapid increase in Seoul's urban population led to inflated prices and a shortage of affordable housing in the city. A large number of slum settlements developed and in 1988 Guryong panjachon (a wooden board house) was created by residents who had been pushed out of their inner-city slums by the government to help "clean up" Seoul for the Summer Olympic Games. Today, Guryong is home to around 2,000 residents whose wooden shanties get nearer to the ever-expanding Gangnam skyline everyday. However, unless you are looking for it, you would never stumble upon Guryong; its estranged location and solid metal barrier makes it practically invisible to the eye of a passerby.
Now, I would never consider myself a humanitarian, a social reformer, or even someone who is particularly interested in altruism. Yet coming from a large North American city, I arrived in Seoul expecting to see the usual cast of characters living on the fringes of society: homeless people, the mentally unstable, drug addicts and street kids. To my surprise these people were so entirely absent from my everyday experiences of Seoul that in my first few weeks here, their very absence became noticeable to me. Later when I learnt about Guryong slum, I couldn't help but begin to meditate on just how different this kind of poverty is from what I was used to seeing back home. Upon visiting Guryong this spring, I became aware of some of the important effects this kind of "hidden poverty" has on the psychology of people living in the city.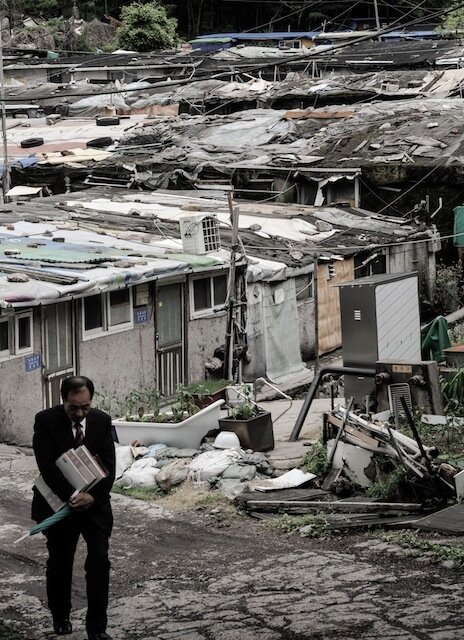 While living in my hometown of Toronto, I saw homeless people on a daily basis on street corners, busses and sidewalks, and I learnt how fortunate I was in contrast. Tacitly, I understood that my lifestyle came at a price which I did not necessarily pay myself. The fact is, that we have yet to discover a situation where everyone can earn a happy wage and we are even further yet from conceiving of a society where everyone can work as professionals towards their own self-realization. This is how things stand right now across the globe and when confronted on a daily basis with poverty, a person usually makes one of two choices; either one steps in and tries to improve the situation or one continues to live their life as is. However, what is important to note, is that whether or not I choose to help the people I see on Toronto's streets, I am still regularly confronted with the imperfections of a society which I help to sustain and am forced to take up a share in the collective guilt which accompanies this failure. For any society which creates poverty as a byproduct of its lifestyle, I believe that there is much to be gained from a regular confrontation with this unfortunate fact about itself.
Such confrontations are rare to none in Seoul where poverty has been isolated and hidden from view. I think that this is problematic for a few reasons. Firstly, confrontations with poverty help make poor people relevant to the political decisions we make. So long as we are reminded regularly that we are not in fact living in a kind of paradise, we will not feel as though our city is being jeopardized by the presence of the poor. Decisions like the one which pushed the current residents of Guryong out of their original homes to keep Seoul 'clean,' suffer from this kind of city-as-paradise romanticism. The poor were not outsiders threatening an otherwise perfect city; they were and still are an intrinsic (and at this point inevitable) part of the Seoul we all love. With face-to-face interactions, poverty becomes naturalized in its environment which helps protect these people from receiving an outsider status in our political decisions.
Perhaps most importantly though, regular confrontations with the poor of one's city helps protect our cities' future in that these people remind us of the moral implications of our development. Poverty demonstrates to city dwellers that growth has its consequences and that whatever problems we encounter as a society will have to be dealt with; they cannot simply be swept under the mat. I believe that a shared feelings of guilt toward our societies' present failings will help us proceed into the future with a suitable degree of prudence. However, if our mistakes are hidden from our view now, we will never be able to learn from them for the sake of future decision making. It is in the interest of awareness that I present to you a series of photos I took in Guryong panjachon. I hope that by viewing these photos you can gain a more realistic understanding of the city I have come to love.
Words and photographs by Mike Stulberg. Here's another photoessay from him, this time on Seoul's escalators.