The streets of Seoul city are Monika Rofler's personal catwalk. Before learning how to say hello in Korean, discovering the smell of kimchi, or what the heck soju even was, Monika fled to Korea based merely on a strong gut feeling. She was offered a modeling contract and after living in multiple international cities, she wanted to add Seoul into her mix of travels. After being featured in magazines such as Vogue-Italia, Vogue-UK, Elle, W, and Dazed and Confused, she craved to have a taste of the Korean high fashion world. Little did she know that South Korea would quickly become her home away from home for the next few years. Over chai tea lattes, Monika and I discussed about her life as a freelance model and fashion blogger and how she found true love not once, not twice, but three times.
Mini confession: Monika and I didn't share a shot of soju, but instead, three shots each of something that will forever remain a mystery from the Orange Tree Bar located in Haebongchon.

Bartender: You want the shot special?
Chincha: Sure, what is it?
Bartender: A shot.
Chincha: A shot of what?
Bartender: Alcohol.
Chincha: What kind of alcohol?
Baretender: Good alcohol.
Chincha: Sure. We'll take two.
Chincha: Can you tell me about your first experience jumping into the fashion world?
Monika: It was so exciting. I was 15 and my mom suggested it. I went to a modeling agency and I had butterflies about it. They were like…yeah…yeah…ok maybe… maybe. They weren't really sure if I should be a model, but they ended up booking me because I was so excited about it. I was raised really closed-up in a little Catholic school in Sweden. It was something completely new to me. And I loved it.
Chincha: What brought you to South Korea?
Monika: Actually, it was really cool. I was in Japan and I was just in transition, I'd been there for a while and I was like "You know, its time to leave. Time to do something else." I got offered a contract to come to Korea to do some modeling and I had a really strong feeling to come here. I was thinking "You gotta do this!" It was one of those moments in your life when you think you just have to do something. I had an intuition to just go, so I did.
Chincha: Most people who come to move here stay for a max of two, maybe three, years. What made you decide to stay in Korea for much longer?
Monika: I came for a three month contract. It's pretty normal for models to come for three months and then leave. I had such a great time, I really did. I fell in love with the culture. I fell in love with yoga. And I fell in love with a guy. [Laughs]
I left Korea and I kept in contact with my guy. He went to Sweden, where I'm from, and after we traveled for a while. Then he asked "Hey, you want to go back to Korea?" And I said okay. I decided to go back to the agency I was working with before. Now I've been living here on and off for the past five years as a freelance model.
Chincha: Tell me about your life as a freelance model in South Korea.
Monika: It's fun! One of the best things about modeling is that I get to meet some really cool girls from all over the world. I have so many friends from Paris, New York, Africa, Germany, Tokyo, and now Korea.
The jobs here are always very high-end. Louis Vuitton. Gucci. To be honest, I think the photography here started off copying magazines like Vogue, but slowly Korea is starting to get their own style. Korean designers have really been developing over the past few years. This is an exciting time in Korea. Right now, this moment. I'm really happy to be a part of it.
It's very different from coming here on a contract versus freelancing as a model. As a freelancer it's a bit more relaxed. You can pick and choose much more and models work with different agencies. I've been here for a long time so people know me: they'll honestly just call me. It's actually a little weird. It doesn't work like this is any other country. It really doesn't. In any other country you're tied down to one agency.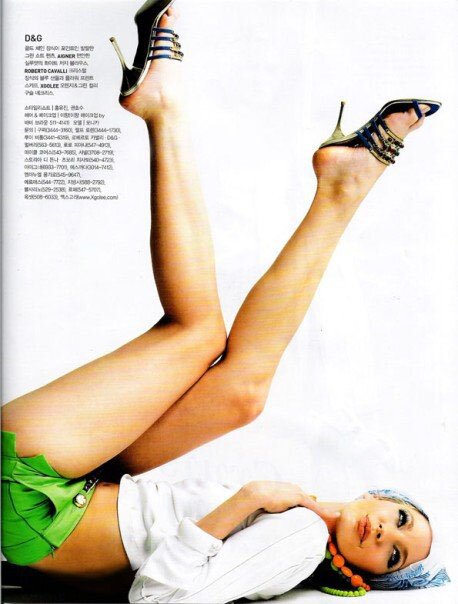 Chincha: As a model, what do you find yourself constantly remembering or reminding yourself about?
Monika: Going back to Tyra Banks, its all about the smize and positioning your body. [Laughs] But I also have to remind myself that it's not just me. It's a whole team behind this whole modeling world. Modeling, especially nowadays, is a big collaboration. When I look at some of the pictures of me I think, "Ah, I wish I just looked like me!" I don't look like some of my photos. There's an entire process. It's an hour of hair and make up, then there's good lighting, and then there's photoshop. You know? I'm sure Cindy Crawford feels the same way.
Chincha: You have a great blog that's really positive. Do you mind telling me more about that?
Monika: It's called Personal Mode. It started off as a fashion blog but now I talk about beauty, health, living good, and being happy about yourself. I also post anything that catches my attention on my blog. I changed a lot this year; I really developed. I feel so much calmer and so much happier in my own skin. Living a healthy lifestyle is really important to me and I do yoga three times a week. I like to remind people to just love yourself and smile. Smile. It's honestly your best accessory.
Nowadays its so much harder to keep up with an online magazine or blog – you have to have an angle. But I find if you have a really good idea you can make it big in a matter of months. It's really about finding your niche.
Chincha: You obviously exude confidence, but were there times in your life where you had to deal with insecurities?
Monika: As a model, there is always a little bit of insecurity. No matter what. You meet so many beautiful girls and you think "Am I good enough?" But when it comes down to it, its all about your personality because there are so many beautiful girls out there. What makes most successful models is usually that special something they carry. You have to have an element of luck too. It's about being at the right place, at the right time. But it's also about being the right type of person with the right attitude. People don't want to work with mean people.
Chincha: Is there an expiration date for your stay in Korea?
Monika: I'm definitely staying for a few more years, that's for sure. I don't know about forever. I would like to see myself retiring in Thailand. [Laughs] But I'm staying here for a while. I'm having a good time here. I see so much potential for this country.
Chincha: So earlier you said you fell in love with Korea and Korean culture. What is it about this country that you enjoy so much?
Monika: I have so many adventures here. A few years ago, I didn't know anything about Korea. People didn't speak about this country at all. It was just all so new. And that's the feeling I love the most. It's completely a new experience. People know about Japan, Thailand, Hong Kong. But Seoul, South Korea? People's response is "What? Why are you there? North or South Korea?" [Laughs] That feeling of being the first in a place amongst the people in my life is so great. The feeling that you're hitting new ground, new turf. No one's touched it yet. In Seoul you can make something, and you can make something big.
Visit Monika's fabulous blog here.
Interview and feature image by . All other images are from the following publications that Monika was featured in: Luxury, Heren, L'officiel Paris, i-D, Naver, Wedding21, and Vogue Italia