You might enjoy Hongdae's lively nightlife, but the chain restaurants, neon lights and swarms of students in Seoul's most youthful neighbourhood can be overwhelming at times. Yet just a ten-minute walk to the outskirts of the ever-popular area is Sangsu, a trendy spot catering to the city's alternative crowd, and a welcome break from the chaos of the university district. The neighbourhood boasts a cluster of independently owned cafes, bars and restaurants, each with their own charm.
Although the various alleyways comprising Sangsu are livelier during the evening, there are enough cafes to hole up during the daytime, too. Here are seven of the best hangouts we could find for all hours.
팜팜피아노/ Palm Palm Piano
Having opened just last summer, Palm Palm Piano is already proving itself as one of the premier places to grab dinner or enjoy a few drinks in Sangsu. The menu is a blend of European and Korean cuisine, including favourites such as pork medallions with blueberry compote, a personal take on kimchi stew, and delectable chestnut and bacon skewers. Palm Palm Piano's owner, Jiae, has scattered plants and vintage furniture across the chic venue, conjuring up the comforting feeling of chilling in a friend's living room. The venue also has an extensive drinks shelf, which includes Havana Club rums and 7 Brau on tap. .
Directions to Palm Palm Piano: Leave Sangsu Station at exit 4. There will be a hair salon right behind you. With the salon on your right, keep walking. After 100m, to your right there will be a GS25 convenience store. Take the immediate right and walk another 80m. 팜팜피아노/Palm Palm Piano will be on your left.
Yri Café
One of the more laid-back spots to hang out at in the area, Yri Café has become a popular habitat for local musicians, writers and filmmakers. An extensive record and book collection adorns the walls of the venue, creating a snug hideaway where customers can splay out on sofas or chat with friends on classic, wooden seating. Although Yri Café has its regular crowd, the staff provide a friendly service, complementing the mellow atmosphere. Aside from tea and coffee, the menu offers a variety of alcoholic beverages, as well as a few bar snacks such as edamame beans and fries.
Directions to Yri Cafe: Next door to Palm Palm Piano.
Anthracite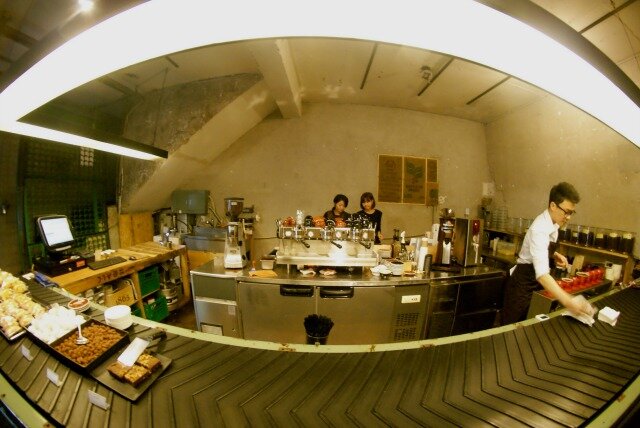 Set within a rundown factory, Anthracite is a hip hideout for a daytime coffee fix. Upstairs is the best spot to catch wannabe musicians or writers getting creative within the concrete, wood and steel structure. Although the building has been left much as it was, with its cracked walls and skeletal roof, the squishy chairs, corner piano and oversized central sofa add elements 0f comfort. The coffee selection is also one of the best in Seoul and is served by specially trained baristas with a guarantee of quality. If Andy Warhol's Factory was nearby, this is where he would have had his morning espresso.
Directions to Anthracite: Leave at exit 4. Turn left after the 7-Eleven before turning right at the end of the road. Next, turn right before UNI Art Hall and you should spot Anthracite.
제비 다방/Jebidabang
This rare little cafe/bar holds live music events in its miniature basement amongst the various books and magazines that line its walls. Again, this is a shop that is filled with eclectic furniture and treasures; the wooden tables being lit by 70s lamps. On one of the many musical events held, the small seating area is easily filled and provides an intimate viewing of the performances being thrown. Go to drink a coffee or beer; there's a guarantee that you'll find something there to keep you entertained.
Directions to Jebidabang: Take exit 3 and double back. You will see Jebidabang on the left-hand corner.
Slunch Factory
Slunch Factory is a vegetarian restaurant that serves vegan eats, too. The large space also doubles up as a cafe during the day and has some yumtastic cakes on offer. The interior design is quirky and eclectic, much like many other cafes and restaurants in this area, but Slunch has a certain quality to its fare that makes it a step above the rest.
Directions to Slunch Factory: Use the same directions for Yri Cafe. Slunch Factory is a little further on the right side of the street.
Gusto Taco
The best Mexican food in Seoul? We think so. Another relatively new addition to the fast-developing Sangsu area, Gusto Taco is a larger version of a hole-in-the-wall taco joint opened by an ex-Wall Street banker and his wife. The tortillas themselves are made from scratch — something that becomes deliciously obvious when you pop one in your mouth — and they've just started serving coronitas (see above) at their fuss-free, takeaway-style restaurant.
Directions to Gusto Taco: Leave Sangsu Station at exit 1. Walk for about 10 seconds. Gusto Taco should be on your left.
Do you have any more recommendations of places in the Hongdae/ Sangsu/ Hapjeong area? Leave them in the comments section.
Words by Daisy Phillipson and Loren Cotter
Images by Sarah Ryan, Daisy Phillipson, Tor Steenson, Loren Cotter and Gusto Taco