The bizarre and creepy genius of artist, writer and director Tim Burton has worked its way around the globe from New York, Melbourne, Toronto, Los Angeles and Paris - to now South Korea, temporarily calling the Seoul Museum of Art (SeMa) home.
The exhibit, which began Dec. 12 with Burton making his first trip ever to the ROK, showcases his lifetimes work from hand inked story boards and sketches of characters from his world renown films long before they manifested into blockbuster hits, to personal journals and provocative paintings dating all the way back to his teenage years in Burbank, California.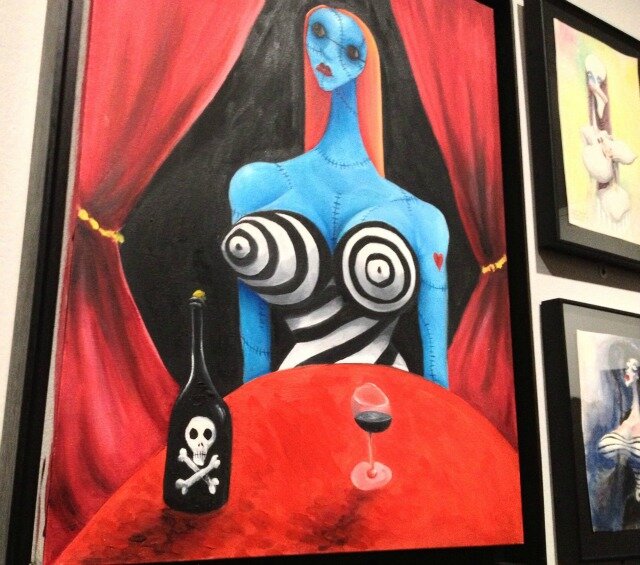 The exhibits dynamic nature – paintings, writings, Polaroid's, movie clips, stop-animation puppets, film props, and figurines – reveal intimate depiction of the multifaceted growth and talent of Burton's work, most of which spawned from his feelings of isolation and not fitting in while living in suburbia as a boy.
The young Burton wrote poems, sketched and painted his way into imaginary worlds escaping the drudgery of everyday life. Many of these inspirations would later serve as the foundation for some of his most famous films.
The exhibit, which is sponsored by Hyundai Card as part of the company's "Culture Project," ends April 14, 2013 and is the last stop for the private collections' world tour so make sure not to miss out on a final chance to journey inside the mind of one of today's most creative and influential filmmaker and artist.
Popular Burton projects of the past include but are not limited to: Beetlejuice, Edward Scissorhands, Batman Returns, The Nightmare Before Christmas, James and the Giant Peach, Mars Attacks!, Sleepy Hollow, Planet of the Apes, Big Fish, Charlie and the Chocolate Factory, Corpse Bride, Sweeney Todd: The Demon Barber of Fleet Street, Alice in Wonderland, Abraham Lincoln: Vampire Hunter and Frankenweenie.
Location: Seoul Museum of Art
Address: 37 Seosomun-dong, Jung-gu, Seoul
Hours: Tuesday-Friday 10 a.m.-8 p.m., Saturday-Sunday 10 a.m.-7 p.m.
Price: ₩12,000
Words and photography by Tey-Marie Astudillo. Follow her on .