There's no dearth of music venues in Hongdae. On any given night, there are hundreds of gigs taking place in the brightly lit, super-hip space between Hapjeong and Sinchon. To catch live music in Hongdae, you needn't even cross a single threshold, with buskers occupying virtually every street corner or open space. Hongdae is Seoul's creative heart: a live music goer's rich stomping ground.
What's the appeal of one place over the other then? Neighbours Club Ta, Gogos 2 and FF house a nice mix of bands (the latter sliding into a sticky-floored grope-session after the last act goes up on weekends). A delightfully dark and lofty space, DGBD snags bigger acts. Freebird's musical palette is about as varied as Spotify, while Strange Fruit lays on a nice show in its cosy, be-postered surroundings. Just up the hill from Strange Fruit is the little known Club Bbang; a venue often absent from the usual list of live music spots. It had a brief spell of fame last December when Deerhoof played there on their first jaunt to Korea, but with mostly Korean bands performing on its modest stage, it tends to stay off the expat radar. There's a reason for its truancy from the regular line-up. It's the Wes Anderson of music venues. It wants to be different, even a little odd.
"This place should be different from other places. I don't think our existence is meaningful unless we're different," says the co-owner of Club Bbang, Kim Young Deung.
Unlike the other big names in the live music scene, when you visit Bbang, you aren't going to a gig strictly speaking. You're going to a showcase. It doesn't feel formal, but it certainly feels different from the wilder clubs. You probably won't dance or chat to your friends while you're there. At the risk of seeming obvious, you're there to see a band. You're there to shaddap and listen, damnit; to appraise even.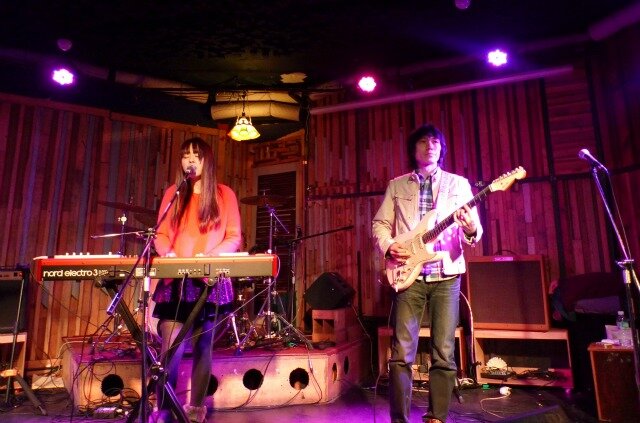 Joining Bbang's management in 1998, Kim had a clear idea of what he needed from a venue. "I longed for a place that brings a sense of freedom; where the general public are encouraged to explore," he says. "There is an enormous number of groups and individuals writing their own songs and creating art. I hope musicians continue play here and experiment without any boundaries." With that philosophy at its core, Bbang is as much a venue for bands to stretch themselves creatively as it is for you to hear them. I remember one particularly vivid illustration of the point when a statuesque all-male band, complete with top-buns and leather jackets, rampaged their way through their set, testing the self-control of the mostly female audience. A fan who'd been silently bouncing on the spot waited for the final song to finish before screaming, "Fucking sexy guys, yeah!"
Rock and roll.
Sound checking is usually done before the doors open and the turnaround between acts is rapid. You have about enough time to pick your way through the fold-out seats and grab a beer from the small bar before the next band strikes up. From night to night, the nature of the line-up changes. You might see a ska band followed by a singer-songwriter followed by Korea's answer to Arcade Fire. It's quirky and unpredictable, but more than that, it's inclusive. Even on a quiet night, the intimate and under-dressed setting gives you a sense that you're in the know; that you've got your finger on the live music pulse. It's cool, but it doesn't quite know it. The best kind of cool.
Bbang's smallness says something more about it still. The sound engineer doubles as reluctant bartender, and the owner is usually stationed at the entrance collecting fees and helping bands unload. It's grassroots, this venture.
Aided by generous governmental pocket-money and the willforce of millions of Korean teenagers, kpop doesn't need any favours, but original bands do. They need a space and an audience, word of mouth and the occasional, "Great job, guys." Smaller venues allow for that and carry a sense of community that larger places often can't. The link between your hard-earned Won and a healthier live music scene in Korea is fairly uncomplicated in Bbang.
Having worked in the Hongdae scene for over fifteen years, Kim is well aware of the struggles involved. "Seoul is a place where trends come and go, and there are constant shifts within the culture. It's hard to adapt to the ever-changing environment. The indie scene is growing and maturing, but there's nothing behind it to back it up. Fairness doesn't really exist. The only thing that counts is album sales."
There are obstacles to growing the alternative scene, no doubt, and with the recent election forecasting conservative times ahead, there may be more challenges on the horizon. We can count, at least, on the scene's power to react and find an audience where it can, be it Club Bbang, Freebird or the notorious Hongdae Playground. As well as the current plenty of decent venues, there are a lot of bands to get excited about this year. A few names to watch out for are MITM (미틈), Ondahl (온달), Veins (베인스), The Lads (청년들) and Juck Juck Grunzie (적적해서 그런지). We're not starving for good music, so there's room for hope. It's complacency that will doubtlessly be the killer of this still-fledgling scene.
2014 will see Club Bbang's 20th anniversary. In the two decades since its doors first opened, a lot of gig bags have been carried down its stone steps. Kids who were playing grunge in the nineties are probably sending their own children to music hagwon by now. Does that make Kim reflect on what's still to come?
"Sometimes things don't work out how we wish they would. We get narrow-minded at times and have a hard time dealing with changes, but one thing's for sure: Bbang needs to stay progressive, keep changing. Maybe a radical new scene will be born."
It's certainly an exciting prospect. Let's hope Bbang sees another decade of keyboards, guitars and haegums to help things along.
To get to Club Bbang in Hongdae head to Hongik University exit 8, walk away from the main road towards Hongik University. Left at the first roundabout then right at the second roundabout you see. It's up the hill on the left (same side as Strange Fruit). Bands play regularly but we recommend Friday nights as they tend to put the best musicians on then. Entry: 15,000W (approx). Beer: 3,000W.
See Korea Gig Guide for more info (A10 on the map).
Interview material translated by Kyu Lee.
Written by .