Since we received two opposing reviews for last weekend's divisive Dirty Beaches in Seoul gig we decided to publish them both. To read another opinion on the event head to Grey Watson's piece.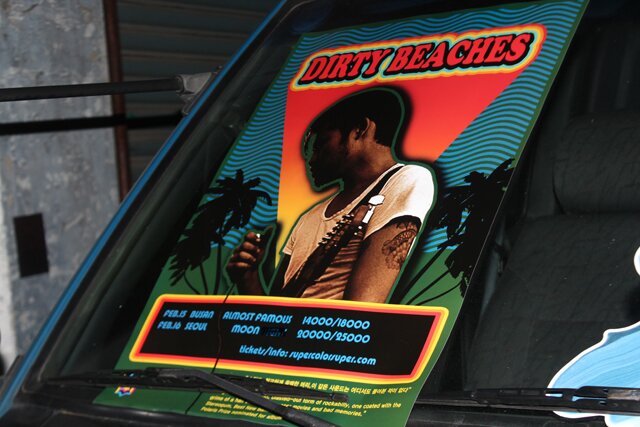 While most people rely heavily on websites like Pitchfork or magazines like Under The Radar to hear the latest in up-and-coming artist and musicians, I've been relying on GQ Magazine for that guidance for a long time. It's been that way ever since I first found out about Interpol when they graced the pages of this fashion lifestyle magazine. So when browsing through an issue I found Alex Zhang Hungtai aka Dirty Beaches flaunting his 50's pompadour style, I was immediately enthralled by the man before hearing a single song from him. Although I immediately went online to hear his music and enjoyed it, it was his overall appearance and persona captivated me more than the sound itself.
This would not be the last time Hungtai's looks and persona would overshadow his music for me. It happened again during the sold out Dirty Beaches gig at Art Space Mun in Mullae last weekend, where the band were supported by retro-influenced singers The Barberettes and shoegazers Kuang Program.
Many people who went to this show where in for a curve ball: Dirty Beaches sounded nothing like expected. While songs like 'Lord Knows Best' and 'True Blue' drew concertgoers to the show, this was not what they got. Instead, they were treated to a 30 minute visual and audio punch to the face. Right from the beginning there were earth shaking sounds from the synthesizer, heart stopping hits on the electric drums, screeching distortions from the guitars, and mind numbing howls from Hungtai himself. There was only one word to describe it: chaotic. And it was awesome.
As I looked upon the crowd, I gazed at some distraught faces. Many of the individuals that came out that night were unprepared to see such a performance and seemed unable to go with the flow. The remaining bunch, however, though it was outstanding. It was an insane performance piece and Hungtai was the star. At one point during the act he was no longer singing, just downright yelling at the audience, jumping offstage into the crowd and trying to start a moshpit.
This was Hungtai at his rawest and most unforgiving. I wish more musicians would take a more direct and in-your-face type of attitude. Right at the end of the set, as Dirty Beaches readied themselves for an encore, someone in the crowd heckled them. Hungtai leaped from the stage and started swinging at him. Once the heckler left (or ran for his life) Hungtai jumped back on stage, announced that the show was "fucking over," lit up a Lucky Strike cigarette and started mingling with the crowd. A stunned and silent audience was left wondering what they had just witnessed.
While there may have been plenty of people who will easily forget the music that they heard that night, one thing is for sure: they'll be thinking about Dirty Beaches' lead singer for a good while.
Did you go to the show? What did you think?
For upcoming live music shows check out our Seoul events article.
Words and images by Ben Linares.